Regular price
Sale price
$30.24 USD
Unit price
per
Sale
Sold out
This beautiful photo frame has been named after Nandi. It has a grey and white inlay design created from ethically sourced bone and wood painted using non-toxic dyes. This handcrafted frame is thoughtfully designed for the stylish display of a 4" x 6" print or photo. It is part of our Nandi collection.

Nandi is a deity conferred with many powers. He is the protector of Dharma and the chief of the team of Ganas, or attendants of the gods. Nandi is also considered the granter of boons. The scared bull "Nandi" is the vehicle and gatekeeper of the Hindu deity Lord Shiva and it is often enshrined in the form of a statue at Hindu Shiva temples. In Sanskrit, Nandi means "happy and joyous".

Nandi symbolizes purity as well as justice, faith, wisdom, virility, and honour. 
Love this pattern? Check out Nandi Phone Dock.
Wish to pair more of such frames together or do you need a bigger-sized photo frame in the same pattern? Check out Nandi Photo Frame - Grey, White and Brown 5" x 7"
Features
Recycled wood and ethically sourced bone
Handmade by expert artisans
Nature-inspired colour, representing earthy hues from the outdoors
Glass cover for the photo to protect it from dirt
Fair Trade sustainable gift
Made in India
Dimensions
Frame size: Approx. Height = 210 mm, Approx. Width = 165 mm
Fits 6" x 4" photograph
Note 
Due to the nature of hand-made products, kindly expect slight imperfections. This is not a defect and "Chevron Recycled Photo Frame - 4x6 Picture, Grey, White and Brown, Nandi" is non-refundable due to this reason.
Dimensions are approximate since this item is handmade.
Share
View full details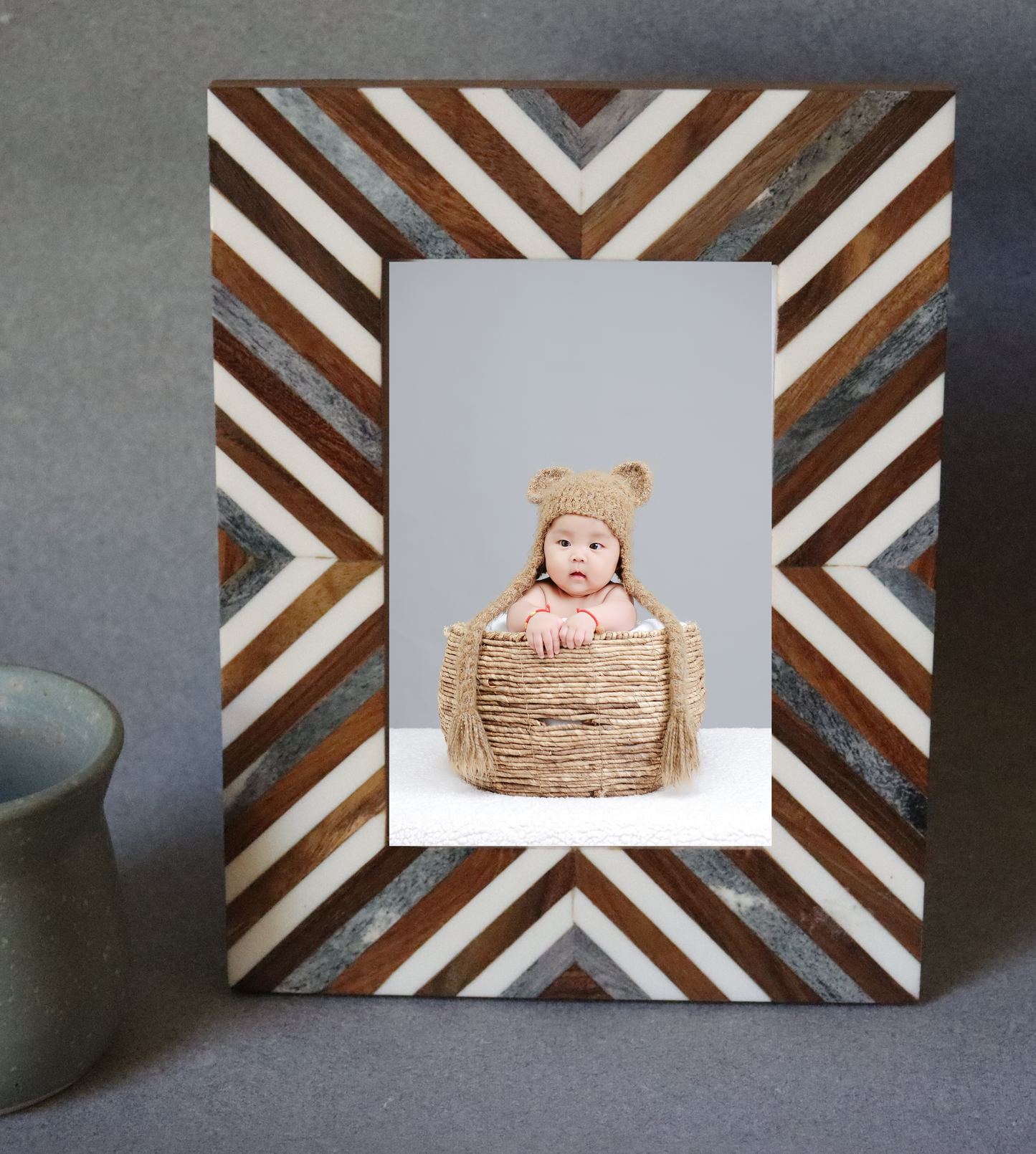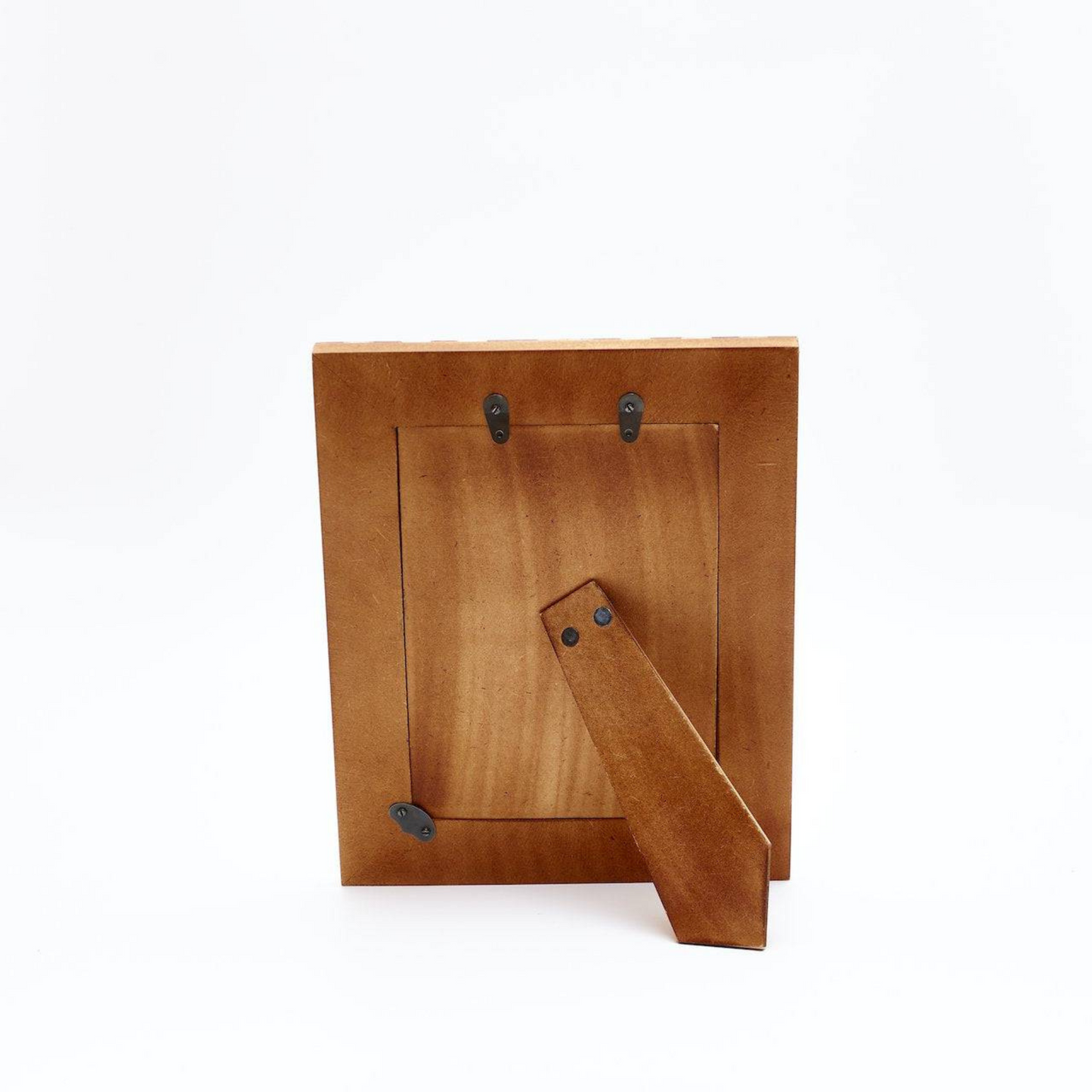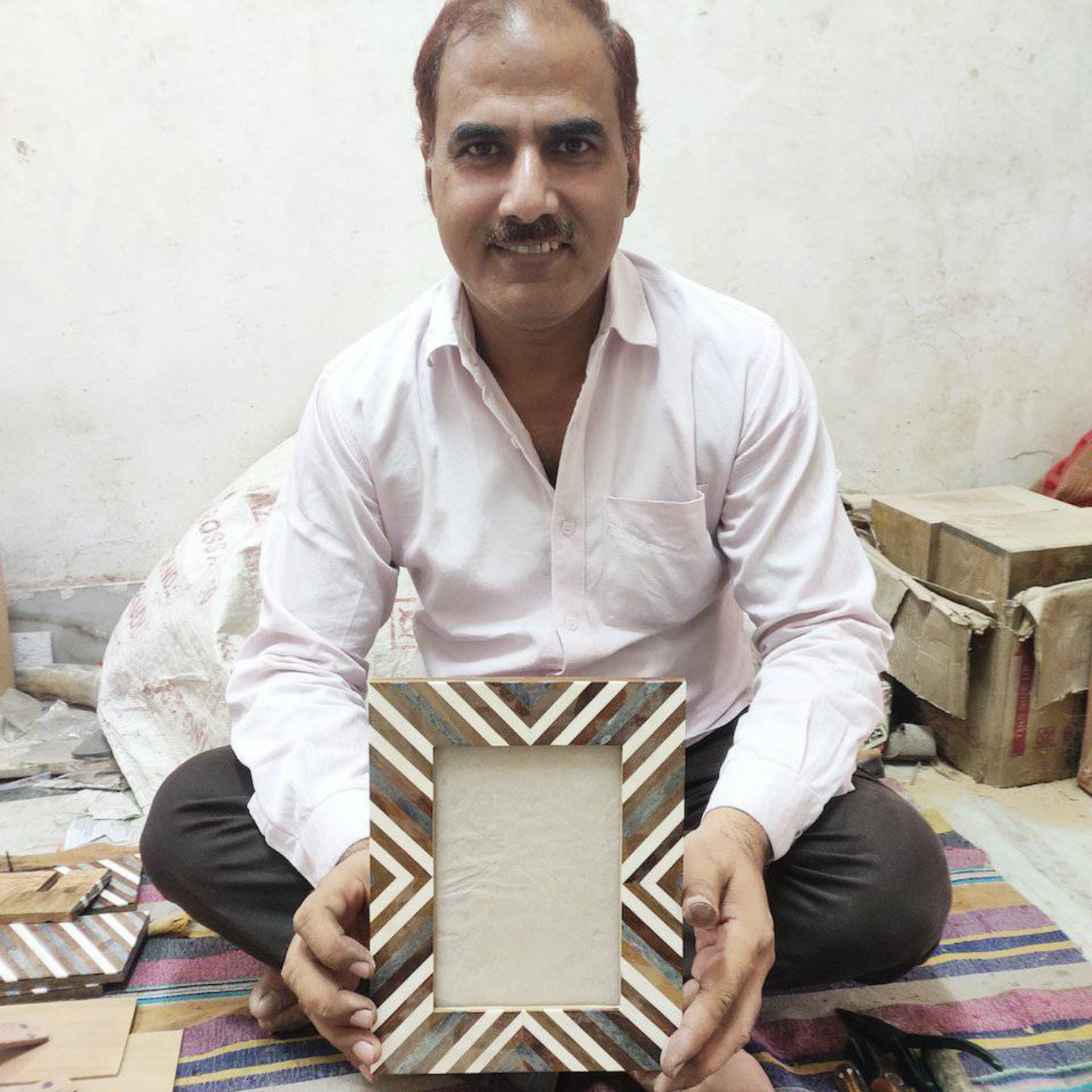 Free Shipping over $75

$10 Fixed standard shipping fee is waived off when the order value is $75 or above (AU) and $100 or above (NZ).

Shipping Policy

Hassle-Free Returns

14-day return policy to give you peace of mind.

Refund Policy

Buy Now, Pay Later

Choose your favourite service - AfterPay, Zip, Latitude Pay, Klarna
Collapsible content
Why Aksa Photo Frames are the best?

Fair Trade

 

- Aksa is a fair trade shop. This means every picture frame has been lovingly crafted by an artisan in return for economical independence, welfare and community engagement. Read more about the 10 Fair Trade principles

.

Hand Made:

 

Our range of photo frames and picture frames is entirely handmade using hand tools and traditional craftsmanship passed down generations. This means each piece is unique in its own beautiful and warm way in terms of design and beauty.
Eco friendly, Sustainable Raw Materials:

 All of our photo frames have been 

handcrafted in India using the eco-friendly and sustainable raw materials like recycled metal, sustainable wood. 



Our range of quality photo frames and picture frames include wooden photo frames, and bone photo frames. Display your special memories, achievements, and anecdotes for a conversation and dinner time stories.
About Indian Woodcraft & Artisans

Woodcraft in India is dated back to the ancient times of Maharajas. Initially, the art was limited to carving sculptures and windows of temples and palaces. Over many generations and under the influence of its region's culture and locally available wood the art form has evolved and now extends to articles like furniture, decorative pieces, storage boxes, table lamps, toys and puppets.

India has an abundance of native wood that lends well to the carving and inlay work. Some examples are Ebony, Rosewood, Sandalwood, Sheesham, and Sal.

The diversity of each region's style and carving technique reflects in the motifs, and patterns on each carved article. The geometrical and floral patterns are the most popular.

In many regions, woodcraft production is vital for community livelihoods. By participating with Fair Trade organisations, we contribute to alleviating poverty and promoting sustainability through ethical practices. These organisations aim to educate and empower disadvantaged sections of the Indian community by providing them with job opportunities, gender equality, fair wages, safe and healthy working environment while preserving the local culture & traditional skills.